On Wednesday I made my first trip ever to ski Mad River Glen with a friend from church, and although skiing is always awesome, this trip was a little bit sad. Tuesday it got warm and rained, and pretty much the entire mountain melted out because it was almost all powder. They went form 100% open to ~40% open in 1 day. The guy at the ski shop thought they would close this weekend. I saw a lot of good looking terrain, but yesterday it was cold and didn't really soften up at the top and almost nothing was open at the bottom. There were probably fewer than 50 skiers on the mountain. Below are some funny pictures of me trying to ski on grass. Somehow the runs didn't seem to have too many rocks on them and it sorta worked.
Grassy moguls. Almost as good as regular moguls.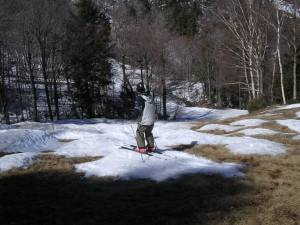 As long as there aren't too many rocks, you can ski practically anything.